Brain Teasers User Profile
Emilie Lavigne
short ranking list

| | | |
| --- | --- | --- |
| 76. | Vladimir Srbinoski | 99 |
| 77. | Peter Hine | 98 |
| 78. | Emilie Lavigne | 88 |
| 79. | Gab Aguilar | 84 |
| 80. | Nemanja Katanic | 84 |
last 3 solved tasks
| | |
| --- | --- |
| The computer chose a secret code (sequence of 4 digits from 1 to 6). Your goal is to find that code. Black circles indicate the number of hits on the right spot. White circles indicate the number of hits on the wrong spot. | |
| The computer chose a secret code (sequence of 4 digits from 1 to 6). Your goal is to find that code. Black circles indicate the number of hits on the right spot. White circles indicate the number of hits on the wrong spot. | |
| The computer chose a secret code (sequence of 4 digits from 1 to 6). Your goal is to find that code. Black circles indicate the number of hits on the right spot. White circles indicate the number of hits on the wrong spot. | |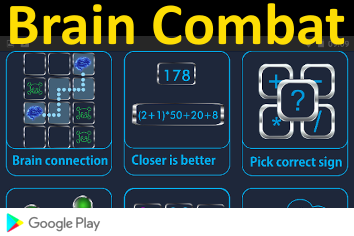 William Murdock
Born 21 Aug 1754; died 15 Nov 1839 at age 85.Scottish inventor, the first to make extensive use of coal gas for illumination and a pioneer in the development of steam power. He joined James Watt and Matthew Boulton and in 1784 he was sent to supervise the installation of Boulton & Watt steam engines working pumping equipment in Cornish tin mines. While there, he tested his ideas to use the gas given off by burning coal. From an iron retort in the backyard of his home, he ran a metal tube into his living room. On 29 Jul 1792, Murdock achieved a gas flame inside the room. In 1802, Boulton installed two gas lamps outside his Soho factory. Next year, the foundry was entirely illuminated by gas. Shortly, Boulton & Watt began to sell lighting and heating equipment with Murdock as a partner in the business.
Wild Things
An old man sitting at the mall watched a teenager intently. The teenager had spiked hair in all different colors: green, red, orange, and blue. The old man kept staring at him.
When the teenager was tired of being stared at, he sarcastically asked, "What's the matter, old man? Never did anything wild in your life?"
The old man did not bat an eye when he responded, "Got drunk once and had sex with a peacock. I was just wondering if you were my son."