Brain Teasers User Profile
Mita Kojd
short ranking list

| | | |
| --- | --- | --- |
| 94. | macho chesh | 102 |
| 95. | Glen Kotzer | 101 |
| 96. | Mita Kojd | 100 |
| 97. | Diane Elcano | 99 |
| 98. | Vladimir Srbinoski | 99 |
last 3 solved tasks
| | |
| --- | --- |
| Look carefully caricature and guess the name of musician. | |
| Look carefully the picture and guess the game name. | |
| The computer chose a secret code (sequence of 4 digits from 1 to 6). Your goal is to find that code. Black circles indicate the number of hits on the right spot. White circles indicate the number of hits on the wrong spot. | |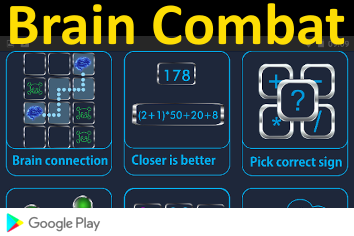 Fermium
In 1953, a sample amounting to about 200 atoms of fermium (Fm, atomic number 100) was first discovered by ion-exchange chromatography and identified at the University of California, Berkeley. Like einsteinium, fermium was first isolated from the debris of the Nov 1952 test of the hydrogen-bomb (called the "Mike" event, conducted at Eniwetok Atoll in the Pacific Ocean). Samples of debris were collected by drone aircraft flying through the cloud. For security reasons, it was kept secret until 1955 [See Phys. Rev., 99,1048 (1955)]. Because it is so short-lived, scientists doubt that enough fermium will ever be obtained to be weighed. Fermium was the eighth transuranium element of the actinide series to be discovered, and was named in honour of Enrico Fermi.
A man went into a local tavern...
A man went into a local tavern and took a seat at the bar next to a women patron.
He turned to her and said, "This is a special day, I'm celebrating."
"What a coincidence," said the woman, "I'm celebrating, too". She clinked glasses with him and asked, "What are you celebrating?"
"I'm a chicken farmer," he replied. "For years all my hens were infertile, but today they're finally fertile."
"What a coincidence, the woman said. "My husband and I have been trying to have a child. Today, my gynecologist told me I'm pregnant! How did your chickens become fertile?" she asked.
"I switched cocks," he replied.
"What a coincidence," she said.