Brain Teasers User Profile
Darko Nesovic
short ranking list

| | | |
| --- | --- | --- |
| 375. | Ricardo Cardona | 3 |
| 376. | Aja Romporas | 3 |
| 377. | Darko Nesovic | 2 |
| 378. | Kristina Ko | 2 |
| 379. | Mark Hamilton | 2 |
last 3 solved tasks
| | |
| --- | --- |
| The computer chose a secret code (sequence of 4 digits from 1 to 6). Your goal is to find that code. Black circles indicate the number of hits on the right spot. White circles indicate the number of hits on the wrong spot. | |
| If 8c3aa + 3c22c = bbc58a find number abc. Multiple solutions may exist. | |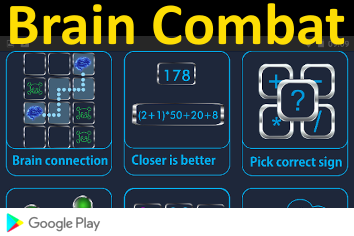 Gabriel Fahrenheit
Born 24 May 1686; died 16 Sep 1736 at age 50.Gabriel Daniel Fahrenheit was a German-Dutch physicist and instrument maker (meteorological). He lived in Holland for most of his life. He invented the alcohol thermometer (1709) and mercury thermometer (1714) and developed the Fahrenheit temperature scale. For the zero of his scale he used the temperature of an equal ice-salt mixture; 30° for the freezing point of water; and 90° for normal body temperature. Later, he adjusted to 32° for the freezing point of water and 212° for the boiling point of water, the interval between the two being divided into 180 parts. He also invented a hygrometer to measure relative humidity and experimented with other liquids discovering that each liquid had a different boiling point that would change with atmospheric pressure.
A talk on sex
A minister gave a talk to the Lions Club on sex. When he got home, he couldn't tell his wife that he had spoken on sex, so he said he had discussed horseback riding with the members.
A few days later, she ran into some men at the shopping center and they complimented her on the speech her husband had made.
She said, "Yes, I heard. I was surprised about the subject matter, as he's only tried it twice. The first time he got so sore he could hardly walk, and the second time he fell off."