Brain Teasers User Profile
Ed Lyle
short ranking list

| | | |
| --- | --- | --- |
| 378. | Chris Harniess | 4 |
| 379. | Brian Robinson | 4 |
| 380. | Ed Lyle | 4 |
| 381. | Richard Malmgren | 4 |
| 382. | Dejan Mratinković | 3 |
last 3 solved tasks
| | |
| --- | --- |
| Remove 4 letters from this sequence (STAOTEMOLENJT) to reveal a familiar English word. | |
| Look carefully the picture and guess the game name. | |
| Metal or bone I may be, many teeth I have and always bared, yet my bite harms no one and ladies delight in my touch. What am I? | |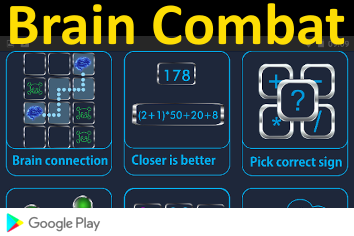 Niccolò Fontana Tartaglia
Died 13 Dec 1557 (born 1499).Italian mathematician who originated the science of ballistics. His proper name was Niccolo Fontana although he is always known by his nickname, Tartaglia, which means the "stammerer." When the French sacked Brescia in 1512, soldiers killed his father and left young Tartaglia for dead with a sabre wound that cut his jaw and palate. In 1535, by winning a competition to solve cubic equations, he gained fame as the discoverer of the formula for their algebraic solution (which was published in Cardan's Ars Magna, 1545) Tartaglia wrote Nova Scientia (1537) on the application of mathematics to artillery fire. He described new ballistic methods and instruments, including the first firing tables. He was the first Italian translator and publisher of Euclid's Elements (1543).
Railroad
A man who had spent his whole life in the desert visited a friend. He'd never seen a train or the tracks they run on. While standing in the middle of the RR tracks, he heard a whistle, but didn't know what it was. Predictably, he's hit and is thrown, ass-over-tea-kettle, to the side of the tracks, with some minor internal injuries, a few broken bones, and some bruises.
After weeks in the hospital recovering, he's at his friend's house attending a party. While in the kitchen, he suddenly hears the teakettle whistling. He grabs a baseball bat from the nearby closet and proceeds to batter and bash the teakettle into an unrecognizable lump of metal. His friend, hearing the ruckus, rushes into the kitchen, sees what's happened and asks the desert man, "Why'd you ruin my good tea kettle?"
The desert man replies, "Man, you gotta kill these things when they're small."