Brain Teasers User Profile
Yogesh Soni
short ranking list

| | | |
| --- | --- | --- |
| 179. | Kayla Do | 13 |
| 180. | Remona Mattai | 13 |
| 181. | Yogesh Soni | 13 |
| 182. | Joe Smith | 13 |
| 183. | Anil Rajyaguru | 13 |
last 3 solved tasks
| | |
| --- | --- |
| How many cubes are there? | |
| Remove 7 letters from this sequence (UKRESILTAUKSRAINT) to reveal a familiar English word. | |
| Find the country and its capital city, using the move of a chess knight. First letter is I. Length of words in solution: 7,9. | |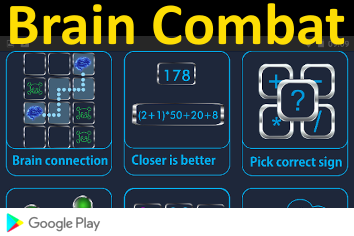 Bernardo Alberto Houssay
Died 21 Sep 1971 at age 84 (born 10 Apr 1887).Argentine physiologist and corecipient, with Carl and Gerty Cori, of the 1947 Nobel Prize for Physiology or Medicine. He was noted for discovering how pituitary hormones regulate the amount of blood sugar (glucose) in animals. The hypophysis, or the pituitary gland, is an important, but small secreting gland at the base of the brain, where it lies sunk in a bony hollow in the most sheltered spot of the whole body. Its size is that of a bean in man, a pea in the dog, and a radish seed in the large toad Bufo marinus, which is plentiful in the Argentine. Houssay worked with dogs from which the hypophysis, or sometimes only its anterior lobe, was surgically removed. He then found that a daily implantation of anterior lobe of hypophysis from toads on the operated animals protected the latter from unbalanced levels of insulin, otherwise present.
Breeding Bulls
My wife and I went to the County Agricultural Show and one of the first exhibits we stopped at was the breeding bulls. We went up to the first pen and there was a sign attached that said:
THIS BULL MATED 50 TIMES LAST YEAR
My wife playfully nudged me in the ribs ..... Smiled and said, "He mated 50 times last year, that's almost once a week".
We walked to the second pen which had a sign attached that said:
THIS BULL MATED 150 TIMES LAST YEAR
My wife gave me a healthy jab and said, "WOW~~That's more than twice a week! .......... You could learn a lot from him".
We walked to the third pen and it had a sign attached that said:
THIS BULL MATED 365 TIMES LAST YEAR
My wife was so excited that her elbow nearly broke my ribs, and said, "That's once a day .. You could REALLY learn something from this one".
I looked at her and said, "Go over and ask him if it was with the same cow".
My condition has been upgraded from critical to stable and the doctors say I should eventually make a full recovery.