Brain Teasers User Profile
Mark Shanteau
short ranking list

| | | |
| --- | --- | --- |
| 135. | Tanesha Lindsey | 37 |
| 136. | Karan Gupta | 36 |
| 137. | Mark Shanteau | 35 |
| 138. | Watermelon Cat | 35 |
| 139. | Tôn Thất Minh Nhật | 35 |
last 3 solved tasks
| | |
| --- | --- |
| The aim is to place the some numbers from the list (1, 2, 4, 5, 9, 12, 16, 17, 24, 41, 88) into the empty squares and squares marked with A, B an C. Sum of each row and column should be equal. All the numbers of the magic square must be different. Find values for A, B, and C. Solution is A+B*C. | |
| If 9c2b3 - a0a0c = 33ac9 find number abc. Multiple solutions may exist. | |
| What is the missing number in the pattern above? | |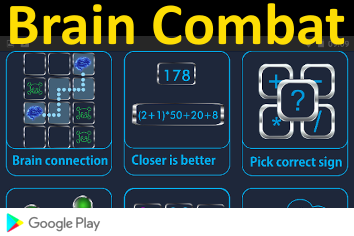 Vitamin C
In 1970, Nobel Prize winner, Linus Pauling declared this day that large doses of Vitamin C could ward off the common cold. He proposed that regular intake of vitamin C in amounts far higher than the officially sanctioned RDA (Recommended Daily Allowance) could help prevent and shorten the duration of the common cold. He concluded that the optimal daily intake of vitamin C for most people is 2.3 grams to 10 grams daily. Although the medical establishment immediately voiced their strong opposition to this idea, many ordinary people believed Dr. Pauling and began taking large amounts of vitamin C. He wrote a book on the subject Vitamin C and the Common Cold (1970) which became a best-seller..
Irish Marriage Jokes
Paddy was an inveterate drunkard. The priest met him one day, and gave him a strong lecture about drink.
He said, "If you continue drinking as you do, you'll gradually get smaller and smaller, and eventually you'll turn into a mouse."
This frightened the life out of Paddy. He went home that night, and said to his wife, "Bridget....if you should notice me getting smaller and smaller, will ye kill that blasted cat?"

A surgeon and an architect, both English, were joined by an Irish politician, and all fell to arguing as to whose profession was the oldest.
Said the surgeon, "Eve was made from Adam's rib, and that surely was a surgical operation."
"Maybe," said the architect, "but prior to that, order was created out of chaos, and that was an architectural job."
"Shure now," interrupted the politician, "but somebody created the chaos first."