Brain Teasers User Profile
Академия Интеллекта
short ranking list

| | | |
| --- | --- | --- |
| 548. | Brooke-Rose Tomlin | 1 |
| 549. | cheng zuo | 1 |
| 550. | Академия Интеллекта | 1 |
| 551. | kranti kiran kumar Gedela | 1 |
| 552. | simon smith | 1 |
last 3 solved tasks
| | |
| --- | --- |
| There are 6 words hidden in the picture, can you find 1 of 6? | |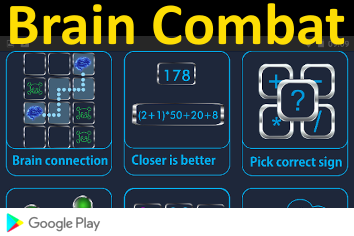 Garnet Carter
Died 21 Jul 1954 at age 71 (born 9 Feb 1883).American inventor of miniature golf. In 1926, Garnet Carter opened the first miniature golf course at the Fairyland Club on Lookout Mountain. To his surprise the course was taken over by adults, who liked the fantasy setting and enjoyed the challenge of putting a ball through the miniaturized fairways. Carter soon began manufacturing courses for national distribution under the patented name Tom Thumb Golf to continue with the fairyland theme of elves and gnomes. By 1930 there were over 25,000 miniature golf courses in the U.S. In 1932, he sold the rights, and with his wife used the profits to open Frieda's Rock City Gardens. By 1940, Rock City was a roadside institution. "See Rock City," was painted on barns and birdhouses throughout the Southeast.
Talking Frog
A guy is 86 years old and loves to fish. He was sitting in his boat the other day when he heard a voice say,
"Pick me up."
He looked around and couldn't see any one. He thought he was dreaming when he heard the voice say again,
"Pick me up." He looked in the water and there, floating on the top was a frog.
The man said, "Are you talking to me?"
The frog said, "Yes, I'm talking to you. Pick me up.
Then, kiss me and I'll turn into the most beautiful woman you have ever seen.
I'll make sure that all your friends are envious and jealous because you will have me as your bride."
The man looked at the frog for a short time, reached over, picked it up carefully, and placed it in his front breast pocket.
Then the frog said, "What, are you nuts? Didn't you hear what I said?
I said kiss me and I will be your beautiful bride."
He opened his pocket, looked at the frog and said,
"Nah, at my age I'd rather have a talking frog."