Brain Teasers User Profile
Mircea Sabau
short ranking list

| | | |
| --- | --- | --- |
| 348. | Neelima Subrahmanyam | 1 |
| 349. | Ondřej Nentvich | 1 |
| 350. | Mircea Sabau | 1 |
| 351. | VAHID BAGHERI | 1 |
| 352. | Harun Cancar | 1 |
last 3 solved tasks
| | |
| --- | --- |
| There is a figure below (a rectangle). You can see different colors depicting different regions of the figure. The labels on the top of a region defines the area of that region. Can you find the area of the green shaded region labelled with a question mark? | |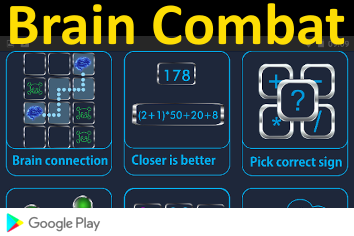 Arthur Martin Vineberg
Died 26 Mar 1988 at age 84 (born 24 May 1903).Canadian heart surgeon, noted chiefly for his development, in 1950, of a surgical procedure for correction of impaired coronary circulation. In the Vineberg operation one end of an artery in the chest, called the internal mammary artery, is freed up. The side branches to the artery, like tributaries flowing off a river, are cut to allow blood to flow freely from them. The artery then is snaked under the surface of the heart muscle, and each time the heart beats, blood from the branches oozes into the heart muscle, nourishing it. Over time new vessels grow and supply blood to the myocardium. The first clinical procedure was carried out at the Royal Victoria Hospital in Montreal in 1950. Modern bypass surgery pre-empted it in the 1960s.
A plane leaves Los Angeles air...
A plane leaves Los Angeles airport under the control of a Jewish captain. His copilot is Chinese. It's the first time they've flown together, and an awkward silence between the two seems to indicate a mutual dislike.
Once they reach cruising altitude, the Jewish captain activates the auto-pilot, leans back in his seat, and mutters, "I don't like Chinese."
"No like Chinese?" asks the copilot, "Why?"
"You people bombed Pearl Harbor, that's why!"
"No, no," the co-pilot protests, "Chinese not bomb Peahl Hahbah! That Japanese, not Chinese."
"Japanese, Chinese, Vietnamese... doesn't matter, you're all alike!"
There's a few minutes of silence...
"I no like Jews either!" the copilot suddenly announces.
"Oh yeah, why not?" asks the captain.
"Jews sink Titanic."
"What? That's insane! Jews didn't sink the Titanic!" exclaims the captain, "It was an iceberg!"
"Iceberg, Goldberg, Greenberg, Rosenberg ...no mattah... all same."