Brain Teasers User Profile
Cathy Martin
short ranking list

| | | |
| --- | --- | --- |
| 224. | Aleena Sibi | 14 |
| 225. | Deekshith Shetty | 14 |
| 226. | Cathy Martin | 14 |
| 227. | Babu Palathingal | 14 |
| 228. | Kayla Do | 13 |
last 3 solved tasks
| | |
| --- | --- |
| The computer chose a secret code (sequence of 4 digits from 1 to 6). Your goal is to find that code. Black circles indicate the number of hits on the right spot. White circles indicate the number of hits on the wrong spot. | |
| The computer chose a secret code (sequence of 4 digits from 1 to 6). Your goal is to find that code. Black circles indicate the number of hits on the right spot. White circles indicate the number of hits on the wrong spot. | |
| The computer chose a secret code (sequence of 4 digits from 1 to 6). Your goal is to find that code. Black circles indicate the number of hits on the right spot. White circles indicate the number of hits on the wrong spot. | |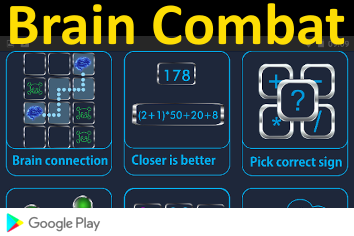 Arthur William Sidney Herrington
Born 30 Mar 1891; died 6 Sep 1970 at age 79.American engineer and manufacturer who developed a series of military vehicles, the best known of which was the World War II jeep. During World War I, he started to work on a new design for military trucks for rough terrain, the smallest of which was the quarter-ton jeep with four-wheel drive that became the prototype for various models built in the 1930s and 1940s. The Jeep served in WW II as a litterbearer, machine gun firing mount, reconnaissance vehicle, pickup truck, front line limousine, ammo bearer, wire-layer and taxi.
Broke student
A college freshman called up his mother and asked her for some money, because he was broke. His mother said,
"Sure, sweetie. I will send you some money. You also left your
calculus book here when you visited 2 weeks ago.
Do you want me to send that up too?"
"Uhh, oh yeah, O.K." responded the student.
So his mom wrapped up the book and mailed it. Dad asked,
"Well how much did you give him?"
"Oh, I wrote 2 checks, one for $20, and the other for $500."
"That's $520!" said dad, "Are you crazy?"
"Don't worry honey," mom said. "I taped the $20 check to the
cover of his book, but I put the $500 one somewhere in ...
chapter 19!
Found on https://vk.com/notes15935520, posted by Liana Parhanita, on 4 Mar 2010