Brain Teasers User Profile
Alexandru Lapusneanu
short ranking list

| | | |
| --- | --- | --- |
| 386. | Anh Lampy Lê | 3 |
| 387. | Laurie Corvillion | 3 |
| 388. | Alexandru Lapusneanu | 3 |
| 389. | George Bell | 3 |
| 390. | Ian Wallis | 3 |
last 3 solved tasks
| | |
| --- | --- |
| NUMBERMANIA: Calculate the number 737 using numbers [1, 7, 3, 8, 50, 683] and basic arithmetic operations (+, -, *, /). Each of the numbers can be used only once. | |
| The computer chose a secret code (sequence of 4 digits from 1 to 6). Your goal is to find that code. Black circles indicate the number of hits on the right spot. White circles indicate the number of hits on the wrong spot. | |
| The computer chose a secret code (sequence of 4 digits from 1 to 6). Your goal is to find that code. Black circles indicate the number of hits on the right spot. White circles indicate the number of hits on the wrong spot. | |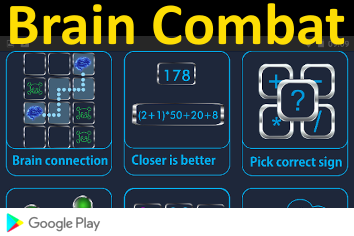 Karl Karlovich Klaus
Born 23 Jan 1796; died 24 Mar 1864 at age 68.Russian chemist and biologist whowas born and died in Russia, but wasof German origin, so is also known as Carl Ernst Claus. He discovered ruthenium (1844), which was the last dense, inert, platinum-like metal to be found. He earned degrees in chemistry, then a Ph.D. in pharmacy, but Klaus gained an international reputation for his researches on the platinum metals (osmium, palladium, iridium, and rhodium). His discovery of ruthenium resulted from an analysis of the waste residues of the platinum refinery in St. Petersburg. He named the element from Ruthenia, the Latin name for Russia. Klaus also investigated flora and fauna of Volga steppes.
Ray shows up at the bar all ou...
Ray shows up at the bar all out of breath so Dewey asks him what the hell is wrong with you?
So Ray says "Ive been running from the cops but I finally lost them"
Dewey then asked "what the hell did you do?"
Ray replied " I was pissing in the shower and the cops showed up to arrest me!"
"Thats not against the law" said Dewey, "Thats what I thought," said Ray.
"But those guys at Home Depot sure must of thought it was"