Brain Teasers User Profile
kadirveluselvaraju kadirveluselvaraju
short ranking list

| | | |
| --- | --- | --- |
| 370. | Daniel Petta | 4 |
| 371. | James Jefferson | 4 |
| 372. | kadirveluselvaraju kadirveluselvaraju | 4 |
| 373. | Nawal A. Hady | 4 |
| 374. | Shohruh Ismoilov | 4 |
last 3 solved tasks
| | |
| --- | --- |
| Determine the value of the number ABCDE | |
| Find the 8 letters word. Word may go in all 8 directions. | |
| Find the first and the last name of a famous person. Text may go in all 8 directions. | |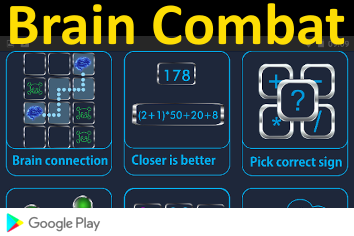 Radioactivity
In 1896, Henri Becquerel stored a wrapped photographic plate in a closed desk drawer, and a phosphorescent uranium compound laid on top, awaiting a bright day to test his idea that sunlight would make the phosphorescent uranium emit rays. It remained there several days. Thus by sheer accident, he created a new experiment, for when he developed the photographic plate on 1 Mar 1896, he found a fogged image in the shape of the rocks. The material was spontaneously generating and emitting energetic rays totally without the external sunlight source. This was a landmark event. The new form of penetrating radiation was the discovery of the effect of radioactivity. He had in fact reported an earlier, related experiment to the French Academy on 24 Feb 1896, though at that time he thought phosphorescence was the cause.«.
A guy goes to the psychiatrist...
A guy goes to the psychiatrist.
"Doctor," says the guy, "I feel as if I'm two different people! Two totally different personalities!"
"Do you think I need help?"
"Can you help me?"
"Am I doing the right thing seeing a psychiatrist?"
"Whoah! Whoah! Whoah!" says the doc. "Please, one at a time."