Brain Teasers User Profile
Allen Wager
short ranking list

| | | |
| --- | --- | --- |
| 26. | Darrin Haywood | 1932 |
| 27. | Fuad Khalil Ibraheem | 1739 |
| 28. | Allen Wager | 1694 |
| 29. | FC Viñas | 1479 |
| 30. | Nebojša Čokorilo | 1340 |
last 3 solved tasks
| | |
| --- | --- |
| The computer chose a secret code (sequence of 4 digits from 1 to 6). Your goal is to find that code. Black circles indicate the number of hits on the right spot. White circles indicate the number of hits on the wrong spot. | |
| What is the missing number? | |
| If 82b0a - bb110 = 1bcaa find number abc. Multiple solutions may exist. | |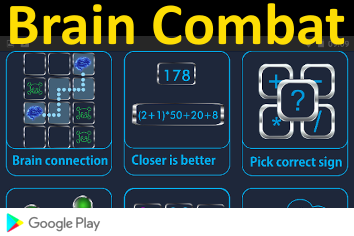 Heart Surgery
In 1963, the first implantation of an intrathoracic left artificial ventricle in a human being was made by Dr. E. Stanley Crawford, at the Baylor University College of Medicine, Methodist Hospital, Houston Tx. USA. The original prototype is kept and exhibited at the Smithsonian Institution, Washington, DC. Within a few years, on 4 Apr 1969, the first total artificial heart was implanted, used as a bridge to heart transplantation by Dr. Denton A. Cooley, at the Texas Heart Institute, Houston Tx. USA.
You Might Be A Redneck If 10

You might be a redneck if...
You've ever shot a deer from inside your house.
The first words out of your mouth every time you see friends are "Howdy!", "HEY!" or "How Y'all Doin'?" (If they respond with the same... they're a redneck too!)
You have more than two brothers named Bubba or Junior.
You've ever stolen toilet paper from a public restroom.
You clean your nails with a stick.
You prefer car keys to Q-tips.
Your Christmas cards have a copy of your butt included.
People are scared to touch your wife's bathrobe.
Your father encourages you to quit school because Larry has an opening on the lube rack.
You think a Volvo is part of a woman's anatomy.