Brain Teasers User Profile
adhi kurniawan
short ranking list

| | | |
| --- | --- | --- |
| 191. | cutecuddles1 | 16 |
| 192. | RAJAYOGAN P | 16 |
| 193. | adhi kurniawan | 16 |
| 194. | Boreli Dejan | 15 |
| 195. | nichelle ainsley | 15 |
last 3 solved tasks
| | |
| --- | --- |
| A girl is twice as old as her brother and half as old as her father. In 50 years, her brother will be half as old as his father. How old is the daughter now? | |
| No matter how little or how much you use me, you change me every month. What am I? | |
| There are 6 words hidden in the picture, can you find 1 of 6? | |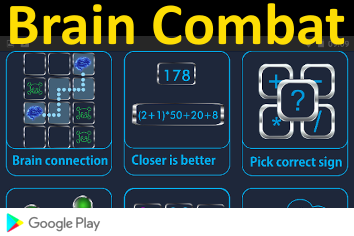 Artificial insemination birth
In 1994, Rosanna Della Corte, a 62-year-old Italian woman, gave birth to a healthy son, Riccardo. Her egg was artificially imseminated by the sperm of her 63-year-old husband, Mauro, at Dr. Severino Antinori's fertility clinic in Rome, Italy. Rosanna Della Corte had earlier lost her only son at 17 in a terrible car accident. She had often tried to adopt another son, but in vain. These were the reasons she turned to the procedure. In reaction, restrictions were introduced in the Italian legislature in the wake of a papal encyclical, Evangelium Vitae, condemning in vitro fertilization and many of other high-tech fertility procedures.
A man asked his wife...
A man asked his wife, "What would you most like for your birthday?"
She said, "I'd love to be ten again."
On the morning of her birthday, he got her up bright and early and they went to a theme park. He put her on every ride in the park - the Death Slide, The Screaming Loop, the Wall of Fear. She had a go on every ride there was. She staggered out of the theme park five hours later, her head reeling and her stomach turning. Then off to a movie theater, popcorn, cola and sweets.
At last she staggered home with her husband and collapsed into bed.
Her husband leaned over and asked, "Well, dear, what was it like being ten again?"
One eye opened and she groaned, "Actually, honey, I meant dress size!"