Brain Teasers User Profile
Greg Wilson
short ranking list

| | | |
| --- | --- | --- |
| 347. | Victor Vega | 5 |
| 348. | Fazzy | 5 |
| 349. | Greg Wilson | 5 |
| 350. | Steven Bailey | 4 |
| 351. | Matthew Jones | 4 |
last 3 solved tasks
| | |
| --- | --- |
| The computer chose a secret code (sequence of 4 digits from 1 to 6). Your goal is to find that code. Black circles indicate the number of hits on the right spot. White circles indicate the number of hits on the wrong spot. | |
| The computer chose a secret code (sequence of 4 digits from 1 to 6). Your goal is to find that code. Black circles indicate the number of hits on the right spot. White circles indicate the number of hits on the wrong spot. | |
| The computer chose a secret code (sequence of 4 digits from 1 to 6). Your goal is to find that code. Black circles indicate the number of hits on the right spot. White circles indicate the number of hits on the wrong spot. | |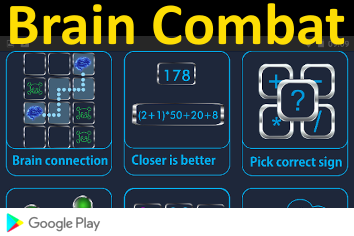 James S. McDonnell
Died 22 Aug 1980 at age 81 (born 9 Apr 1899).American aircraft manufacturer of aircraft. McDonnell started his first company in 1928, to build the single Doodlebug, but since it found no market, he spent the next 10 years working for several aircraft companies. Then he founded the St. Louis based McDonnell Aircraft Co.on 6 Jul 1939. Among his notable achievements were the production of the U.S. Navy's first carrier based jet fighter (1946), the FM-1; Mercury, America's first manned space craft to orbit the earth (1962), and the F-4 Phantom jet.
The Darwinian vs. God Contest
One day a group of Darwinian scientists got together and decided that man had come a long way and no longer needed God. So they picked one Darwinian to go and tell Him that they were done with Him.
The Darwinian walked up to God and said, "God, we've decided that we no longer need you. We're to the point that we can clone people and do many miraculous things, so why don't you just go on and get lost."
God listened very patiently and kindly to the man. After the Darwinian was done talking, God said, "Very well, how about this? Let's say we have a man-making contest." To which the Darwinian happily agreed.
God added, "Now, we're going to do this just like I did back in the old days with Adam."
The Darwinian said, "Sure, no problem," and bent down and grabbed himself a handful of dirt.
God looked at him and said, "No, no, no. You go get your own dirt!"